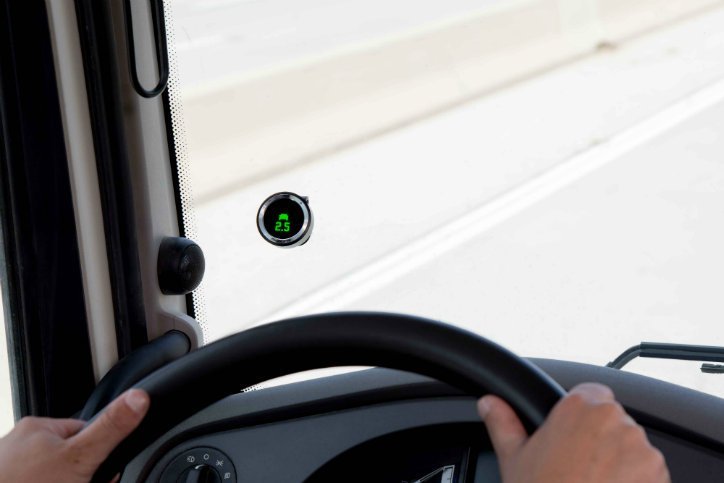 Improving Driver Behavior: Collision Avoidance from Warning to Anticipation
Effective fleet management means dealing with a wide variety of challenges. Among the most important of these are driver safety and keeping your fleet up and running - goals that require lowering collision rates in your fleet.
These collision rates are mostly dependent on your drivers' performance. After all, according to the National Highway Transportation Safety Administration (NHTSA) the data which has been collected on traffic crash for calendar year 2016 shows, among others, that 94% of crashes are due to driver error. Driver training, whether in classrooms, simulators or both may be part of the answer, but they are often not enough.
Equipment upgrades also play a significant role in enhancing driver performance. Collision avoidance systems have become an integral part of modernizing any fleet and these systems have proven their worth over the years. A 2013 study by the Insurance Institute for Highway Safety (IHHS) found that collision avoidance systems cut rear-end collisions by 23%.
In addition, as these systems have become more widespread, additional benefits have come to light. Most prominently, a sharp improvement in driver behavior. It seems that these systems are essentially training drivers on the go, turning vehicles into mobile classrooms. Drivers anticipate possible alerts and avoid even approaching a hazardous situation.
This phenomena of driver training stands out in a study conducted by the University of Missouri testing the effectiveness of collision warning systems. As part of the study, the rate of warnings issued to drivers during the first three weeks was compared to the rate of warnings during the final week. The numbers show a 43% drop in Lane Departure Warnings, a 57% drop in forward collision warnings and a stunning 71% drop in headway (following a vehicle too close) monitor warnings. This could suggest that in the course of just a few weeks most drivers keeping safer distances, paying closer attention to staying in their lanes and signaling when changing lanes.
Another study[i], conducted by the IIHS among their employees in 2017, installed Mobileye collision avoidance systems in 21 vehicles. Warnings were generated during 4 week baseline and 8-week treatment periods and showed that vehicles in urban areas (compared to rural areas) equipped with collision safety systems experienced drops of 63% in headway warnings, 45% in forward collision warnings and 70% in lane departure warnings. According to the final report, "The significant decreases in warning rates observed from baseline to treatment among drivers at both locations indicate that combining an aftermarket collision warning system with telematics is a robust option for changing driver behavior in ways thatshould improve traffic safety."
Even bigger benefits can be seen when fleet management systems integrate collision avoidance systems with telematics. The data from these combined systems give fleet managers the ability to keep track of which drivers are setting off alerts, where and when these alerts are going off etc. This means that fleet managers can reward good driver behavior, support drivers who need more assistance, and avoid dangerous locations or times of days.
Learn more about improving your fleet management with Mobileye's collision avoidance system.
[i] Effects of an Aftermarket Crash Avoidance System on Warning Rates and Driver Acceptance in Urban and Rural Environments Ian J. Reagan(&) Insurance Institute for Highway Safety, 1005 N. Glebe Road, Arlington, VA 22201, USA